5 of the best online blackjack games to play at top casinos
Online blackjack is one of the most popular casino games in the world.
Play blackjack at a top online casino for a chance to win big.
Pragmatic Play will be adding more blackjack fun with a new live dealer game.
#1 Double Attack by Microgaming

#2 Blackjack Switch by Playtech

#3 Pontoon by Microgaming

#4 Spanish 21 Blackjack by Microgaming

#5 Classic Blackjack
Online blackjack has become of the most popular table games at online casinos. Here are 5 of the best table games to play at online casinos today.
Casino games have become more and more popular, with new releases rewarding players and breaking records every year.
Online blackjack
remains one of the most popular table game creations, with different versions providing more ways to play.
| Best Online Blackjack Games | |
| --- | --- |
| Double Attack by Microgaming | A classic casino game with a fun twist, Double Attack will have you rethinking how you play online blackjack. |
| Blackjack Switch by Playtech | Interesting twists and changes make Blackjack Switch a fun way to play a classic table game. |
| Pontoon by Microgaming | Played by residents of the UK, this unique card game is fun and offers the chance to play with 5 hands. |
| Spanish 21 Blackjack by Microgaming | This version of blackjack is played with 8 decks of cards and provides big in-game bonuses. |
| Classic Blackjack | A classic version of blackjack that started it all. Dive into classic fun with various software providers. |
For those that want a different twist on standard online blackjack, Pragmatic Play has recently announced that they'll be adding Speed Blackjack to their live casino portfolio.
Live blackjack
is a fun way to experience online blackjack but also interact with fellow punters.
If regular online blackjack is more your speed, take a look at these top 5 options and start betting at one of our recommended online casinos.
#1 Double Attack by Microgaming
Most online blackjack games allow you to double your bet to increase your chances of winning big. In this version by Microgaming, the doubling option is standard, and you have the opportunity to make the most of this feature by doubling your bet after seeing the dealer's first card.
The doubling fun doesn't stop there. As the game progresses, there are more chances to use the double-up feature. There's also a Bust It! side bet that pays out in certain circumstances, even if you lose.
Played with a 48-card deck,
Double Attack by Microgaming
has an RTP of 99.53%. The Bust It! side bet drops the RTP to 91.99%, so be sure to keep that in mind before you bet.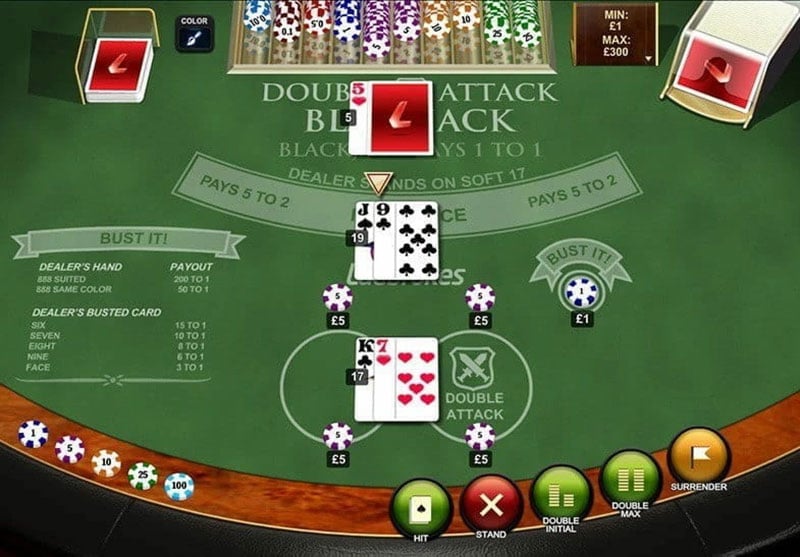 #2 Blackjack Switch by Playtech
Based on the classic game of blackjack, Playtech's Blackjack Switch offers an interesting take on a well-known casino game. Patented in 2009 by Geoff Hall, Blackjack Switch may be new compared to other forms of blackjack, but it has quickly become a favourite among players.
Certain differences make this version of blackjack so interesting. To start with, players are dealt two starting hands instead of one. You can then choose to switch cards from one hand to the other to create a winning hand. Hence the 'switch' in the title. There are also fun bonuses and extra bets to enjoy along the way.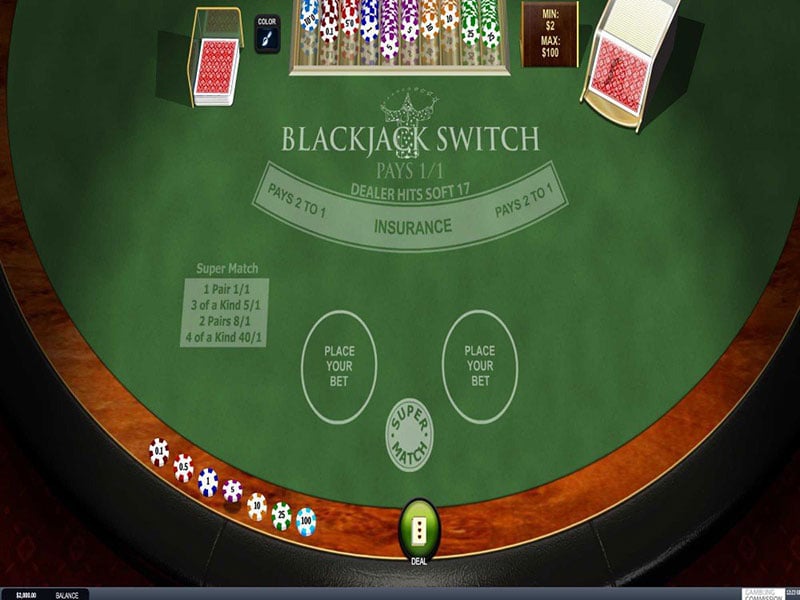 #3 Pontoon by Microgaming
Different forms of blackjack are played around the world. Pontoon is very common in the UK and offers players a few unique features. Microgaming's Pontoon is played across 8 decks of cards. If you are dealt a Pontoon hand (1x Ace card + a card valued at 10), you win and receive a 2:1 payout.
There are other interesting rules to this version of the game. This includes Five Card Trick, where 5 cards totalling less than 21 beat any other hand except Pontoon.
#4 Spanish 21 Blackjack by Microgaming
Designed by Microgaming, Spanish 21 is all about getting the most out of every bet. The game is played with 8 decks of cards, but all of the tens have been removed.
While this is great, the real fun begins when the game dishes out bonus rewards. Without having to place a single side bet, you can get your hands on a massive 50:1 payout, which means you can trigger large payouts without additional costs.
#5 Classic Blackjack
While playing blackjack games that offer fun twists and additions can be exciting, there are times when the classic is all that's needed. Created by many different software providers across the industry, the Microgaming version of Classic Blackjack is a winner.
Play the standard version of the game and aim to create winning hands worth 21 to be a winner. In this version of blackjack, the dealer stands at 17, you can double down on your first two cards, and Blackjack pays out 3:2.
Play
Classic Blackjack
with any top software provider, and the RTP should be set at 99.91%.