Spanish live casino dealers - play with real Spanish-speaking dealers on your mobile or tablet. 100% Spanish croupiers only at these casinos.
Spanish Live Casino Dealers

Spanish Live Casino Games

Spanish Live Roulette

Spanish Live Blackjack

Payment Methods

FAQ
Spanish Speaking Dealers
Spanish speaking gamblers can now access native language tables in roulette or blackjack. Playing with Spanish speaking dealers allows you to chat with croupiers in your language for a more relaxed experience. On this page, you will discover casinos with localised Spanish speaking casino games. Here are our recommended sites:
Best Online Casino Sites - Spain
Data from 2019 suggests that over 580 million people speak Spanish worldwide - nearly 5% of the global population. It is the 2nd most spoken language - behind Mandarin Chinese. With so many native speakers, live casino providers like Evolution have designed bespoke rooms with Spanish speakers in mind.

Spanish Live Casino Games
Here is a complete list of the current live casino games with Spanish speaking croupiers.
Spanish Live Roulette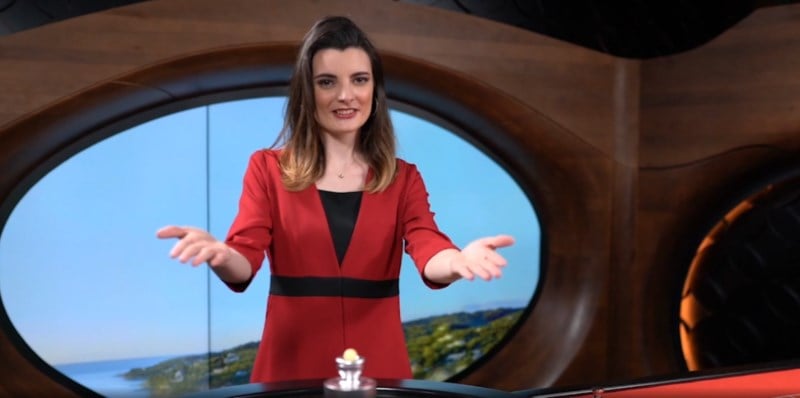 Evolution and Playtech both offer roulette games with Spanish speaking dealers. Gameplay-wise - these games are identical, using single zero roulette wheels with a 97.30% house edge.
Roulette Español (Playtech)
Ruleta En Vivo (Evolution)
Aesthetics wise, Evolutions table is by far the most attractive option. It has a Mediterranean feel - without being excessive. The studio is embellished in polished wood - and a screen at the back shows a picture of a relaxing coastline.
Spanish Live Blackjack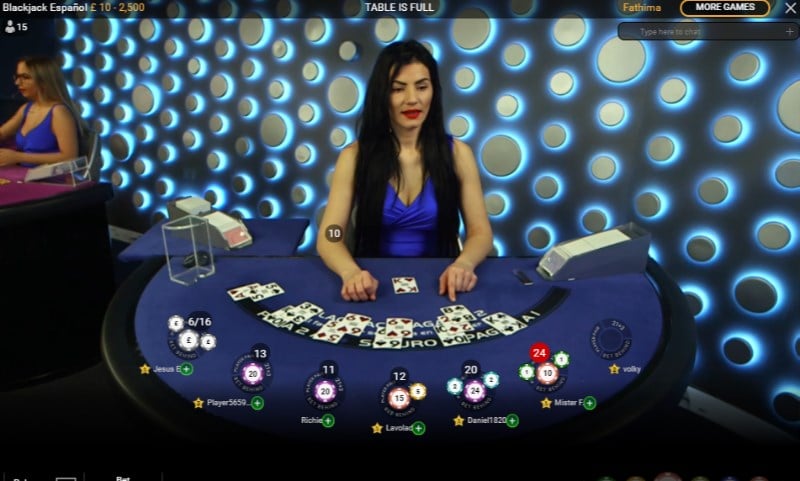 Playtech and Ezugi have Spanish live dealers for their blackjack games. Playtech's table uses 8 pre-shuffled decks - while Ezugi uses 6. Here are the games:
Blackjack Español (Playtech)
Ezugi Spanish Blackjack (Ezugi)
Playtech is, unfortunately, the loser in this matchup - as their table does not support bet behinds. Ezugi does support the feature - so if a table is full, you can still place bets and join the action.
Payment Methods
Here are the best payment methods you will find at Spanish live dealer casinos:
Paypal: One of the most secure e-wallets with millions of global customers. Adding your details here adds an extra layer of protection. Creating an account is free - and you aren't charged the same kinds of fees, unlike other e-wallet providers.
Skrill/Neteller/MuchBetter: Alternative solutions to Paypal - but they may charge a fee depending on where you add funds from. Despite their security, one of the major disadvantages of an e-wallet involves bonuses - these methods aren't eligible to receive one. Even Paypal is often not accepted for bonuses.
Apple Pay/Google Pay: You can deposit directly from your smartphone - without sharing details with the casino. Download the app store's respective app and then add in your card or bank account to get started.
Debit Card: Direct deposits that are fast and convenient. However, using a debit card direct means, you have to hand over information to the casino. There's also the risk of online theft. It is wise to add a layer of extra protection to safeguard your financials.
Bank Transfer: You can also make deposits directly from your bank account. It's generally secure - but it can take a long time for any payments to go through.
FAQ
What is the best Spanish live dealer game?
Roulette is one of the best as there is plenty of time to chat with the dealer between game rounds. It's also easy to learn and offers great depth.
Can I claim a bonus to play?
Yes, provided you are in a country where online gambling is legal - you can make a deposit and get a welcome bonus. How much bonus you will receive depends on the casino and the offers available.
Which Casinos Offer Spanish Live Dealer Games?
Each online casino on this page offers live games with Spanish speaking dealers. Select your favourite table and get betting.
Related News