Crash Game Review
Crash Game Review Review - we show you all the features in this Spribe crash game. Read our full review & play at the best Crash Game Sites
Brought to you by Spribe, Crash offers a slightly different take on the crash game concept than Aviator. Crash probably has the most in common with the crypto market of all the crash games as it doesn't feature an aircraft. The graph and rising line are very reminiscent of the crypto or stock market. Instead of a plane or even a spacecraft, you follow a simple yellow circle at the end of the curve. The max win is a sizeable 1,000,000 coins and you have the choice to end the round early.
Game Facts
Created by Spribe
Arcade crash game
One curve and one dot
Manual and automatic modes are available
Bonus features - Ending the round early
Min bet 0.10 coins, max bet 200,000 coins
Max win 1,000,000 coins
RTP variable - 95.5% - 99%
How to play Crash
Crash is a multiplayer game so you can see other players' bets and when they are choosing to cash out. You can play for 0.10 coins up to a huge 2,000,000 coins.
All you need to do is place your bets and decide when to cash out. Everything is in real-time so you can potentially win massive payouts in seconds. When the dot crashes, the round ends and a new one will begin. You only get a few moments to place your bets before the curve starts rising again.
How to win Crash
If the crash occurs after the multiplier you have chosen, you win. Any multiplier before and you lose. If you are placing bets on high multipliers, you can exit manually when you feel it is the right time. To do this, just hit the 'Exit' button. You don't get long to decide as each round is over in a matter of seconds.
Special Features and Bonuses
There are no bonus rounds in Crash. There are, however, two features worth detailing, below.
Ending the Round Early
This is a question of strategy. You can play safe by placing small bets on low multipliers and have a good chance of bagging a small profit. The other way to play is to bet on a high multiplier, watch the curve carefully and make a split-second decision to push the Exit button and cash out manually.
Provably Fair game
As with some other crash games, players are afforded the chance to check the fairness of the game themselves. With slots, a random number generator is used to ensure fairness and players just have to trust the independent bodies. Here, players are sent a 'server seed' or 'hash' piece of code to verify the game's fairness on the blockchain. A new seed is generated every couple of rounds.
Design & Theme
The design is very simple, giving it a retro quality. The screen shows only a vertical and a horizontal axis with the multipliers and seconds respectively. The bets are highlighted in green at the top of the screen and the curve is a yellow line with a yellow circle at the end. When you cash out before a crash, the numbers turn green. If you lose, the numbers turn red. To the left of the screen, you can see not only your bets but those of every other player.
Our Verdict
Fun, fast-paced and easy to get to grips with, Crash is a great alternative to other similar games such as Aviator or Plinko. The wide range in betting amounts and the simple format makes it great for beginners, while more experienced players can start risk higher bets and start playing strategically. Although Crash is at heart a crypto game, you can usually play it using fiat money too, making it more accessible to different kinds of players.
Crash Game FAQs
How much can I win on Crash?
You can win a maximum of 1,000,000 coins on Crash.

Does the game have free spins?

No, the game format does not allow for free spins.

Can I play Crash free?

Yes, you can usually play a demo version of Crash for free at participating online casinos. You may need to be a member of the casino to access the demo.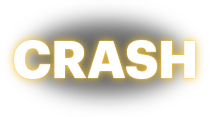 Related Games