1st Down Slot Review
Pick your team and send them out for ultimate sporting glory in 1st Down Slot
1st Down Slot Review
1st Down Slots is a 5 reels and 30 payline American Football themed slot from Inspired Gaming.
To start a game, you will need to pick from one of 8 teams and lead them to victory in the 1st Down Bonus. With multiplier prizes and epic wins - this is the ultimate game day gamble.
Pumped up for some sporting success? Prepare yourself for the field with our 1st Down Slots Review.
1st Down Slot Design
Before you spin to touchdown glory, you will have to pick from one of 8 teams. This doesn't just show your sporting allegiance; it also affects the entire look of the slot, changing the colours and even some of the symbols.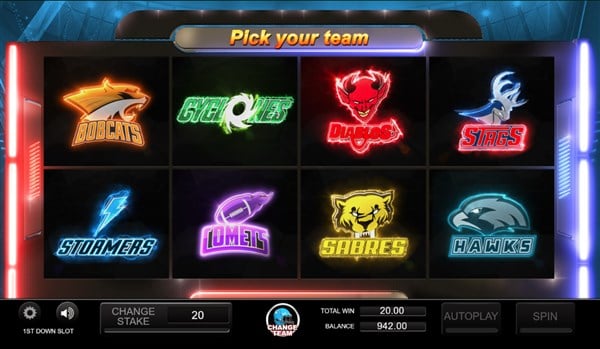 Even without this neat feature, the slot looks polished with cutting edge HD graphics. In terms of symbols, you will brush shoulders with the low-value card and high pay pictures. The high pays feature staple American Football items like helmets and the oval ball itself.
There is also a wild symbol that will only appear on reels 2,3 and 4. And this symbol will substitute for all but the multiplier coin symbols. Speaking of these coins: they happen to play an important role in the bonus feature.
Free Spins & Bonus Features
1st Down Slot does not have a free spins feature - but there are other bonuses you can activate. Matching five bonus coins will unlock a special bonus round with some big multiplier rewards.
In this bonus, you get to simulate a game of American Football, where your chosen team will drive to victory. Each time you score during the offense, you will receive a multiplier sum of whatever was on the coins to activate the feature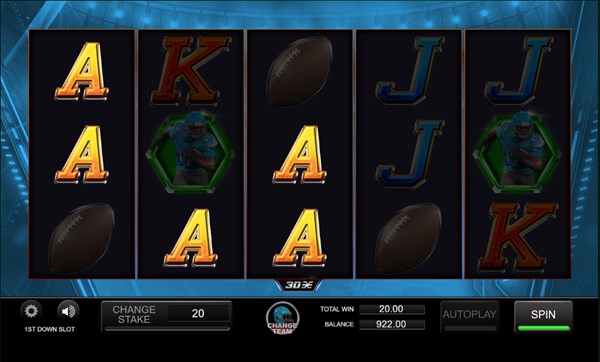 A touchdown will award a 6x multiplier - while a field goal will award a 3x multiplier. If you love NFL - you don't want to miss out on this action-packed bonus. The bonus round will keep going and going until one of two events happen.
The 1st Down Slots Bonus will end whenever your team misses the field goal - or if you throw an interception.


Our Verdict
American Football fans look no further - this game is sure to knock you flat. While the lack of free spins leaves a gap, the bonus round does fill the hole with some valuable rewards. We recommend you play 1st Down Slots if you love exceptional slots actions. Even non-sports fans are sure to get a kick out of this game.
More Information
Android, Android, iOS, iOS, PC