Monopoly Live combines the thrills of live casino games with all the best features from the hugely popular board game.
Monopoly Live Casinos

What is Monopoly Live

The Money Wheel Game

Monopoly Live Strategy & Playing Guide

FAQ
Top Monopoly Live Dealer Sites
Party Casino NJ: New customers only. 21+ T&Cs and wagering requirements apply.
BC.Game: Use the BC.Game Referral / Promo Code NEWBONUS on sign-up to claim. 18+. T&Cs apply
What is Monopoly Live
If you're a fan of Monopoly and you love playing casino games, we've got just the game for you: Monopoly Live from Evolution Gaming. A brand new release for 2019, Monopoly Live combines the thrills of live casino games with all the best features from the hugely popular board game. Try this immersive new live game that's fast becoming a hit with casino gamers.
The Money Wheel Game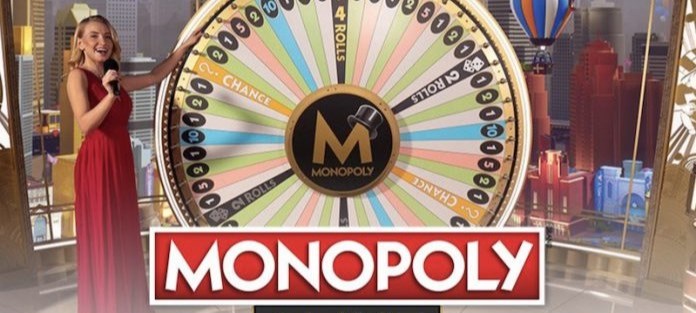 Monopoly Live is one of the money wheel games powered by Evolution Gaming. The other is Dream Catcher, where you bet on which numbered segment the wheel lands on and receive a corresponding payout for guessing correctly. Monopoly Live is played in pretty much the same way as Dream Catcher, with the addition of a Monopoly-themed bonus round.
The focal point of the game is, of course, the wheel. It's a large vertically mounted wheel split into a total of 54 segments of equal size. The segments and their fields are listed below:
22 number '1' segments
15 number '2' segments
7 number '5' segments
4 number '10' segments
2 'Chance' segments
3 '2 Rolls' segments
1 '4 Rolls' segment
All you have to do is bet on which numbered or 'Rolls' segment the wheel lands on. If the wheel lands on 1, 2, 5 or 10 and you've bet on the winning number, you'll win a corresponding payout. So, for example, if you've won on a 10, you'll receive a 10:1 payout.
Whenever the wheel lands on one of the 'Chance' segments, you'll either receive a straight-up cash prize or a multiplier. If it's a multiplier, the wheel will be spun again; if you win, your winnings will be multiplied by that value. Should you land another multiplier, it will be multiplied by your current multiplier, with the wheel spun once more. As you can imagine, some serious payouts can occur when multipliers compound before a win.
If you've bet on '2 Rolls' or '4 Rolls' and the wheel lands on one of these, the bonus game will start and you'll qualify for it. This is where the Monopoly element of the game comes in.
For this, you'll get to join Mr. Monopoly himself as he makes his way around a 3D Monopoly board. Along the way, he'll collect cash prizes and multipliers, along with other goodies. This bonus round is rendered in high-quality 3D, with detailed, immersive graphics bringing the much-loved board game to life.
If the bonus game gets triggered by a '2 Rolls' segment, it will end after two rolls of the dice. Likewise, for a '4 Rolls' segment win, the bonus game will end after four dice rolls. The dice are rolled in the game's studio by the dealer.
Mr. Monopoly works his way around the board, with the number of spaces he moves depending on the outcome of the dice rolls. Just like the original Monopoly game, the value of the properties (and the cash payouts) increases the further along the board you get. To help you make more progress, you can win extra rolls of the dice.
Houses and hotels feature in the bonus game and can increase the value of your payouts. However, there's also Jail and Super Tax, which you should hope to avoid - just like in the Monopoly board game.
The bonus round ends once there are no more dice rolls left. All qualifying players receive their winnings, along with their initial bets. If the bonus round gets triggered and you don't qualify (i.e. you haven't bet on '2 Rolls' or '4 Rolls'), you'll simply get to watch it take place and won't receive any of the payouts.
Monopoly Live Strategy & Playing Guide
Unfortunately, you won't find any kind of Monopoly Live strategy & playing guide online. The reason for this is that the game is all about luck - there's no skill or decision-making involved, and therefore no strategies work. All you have to do is place your bet and hope lady luck makes an appearance.
One tip we can give you is that you'll want to bet on the '2 Rolls' or '4 Rolls' segments. By doing this, you won't miss out on the bonus round and the potentially large cash payouts if the bonus round does get triggered.
Monopoly Live Review
In this
Monopoly Live review
, we'll look at everything there is to know about the unique live game from Evolution Gaming. We'll go over the basics and cover all the rules so that when you play the game for yourself, you know the rules and payouts and will understand how to play.
FAQ
What's the RTP of Monopoly Live?

Monopoly Live has an RTP of 96.23%, which is fair for a live casino game.

What are the minimum and maximum betting limits?

When playing Monopoly Live, you can bet from as little as £1 and as much as £5,000 per spin.

What's the highest possible payout?

The highest amount of money you can win when playing this game is £500,000.

Can Monopoly Live be played on mobile devices?

Yes. The game is designed to run smoothly on all sorts of handheld devices including Android, iOS, Blackberry, and Windows phones and tablets. You'll play directly from your browser, so it works on almost every smartphone and tablet.

What languages is Monopoly Live available in?

As well as English, the game can be played in Italian and German. More languages may be added in the future.


Related News