Cleopatra Casino €10,000 Weekly Slots Tournament Now Live
Join the Cleopatra Casino €10,000 Weekly Slots Tournament! Each week - 30 of the best players will win a share of the €10k prize pool. Here we show you how to enter & win the tournament.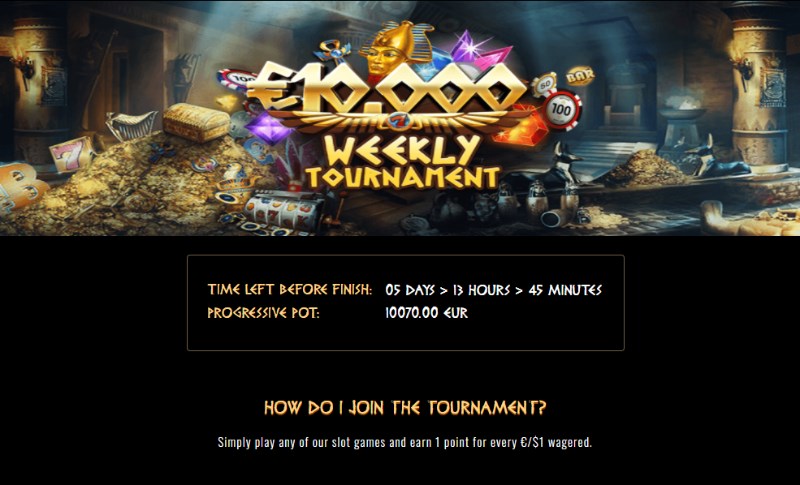 Cleopatra Casino Slots Tournament

How to enter

Prize List

Other Entry Requirements
Cleopatra Casino
has a new incentive for all competitive slots players - a weekly slots tournament with a €10,000 prize pool. Each week, 30 of the best slots gamers will each get to share in the fixed prize pool. To find out how you can enter and win, read our short promotional guide.
How to enter
The Cleopatra Casino slots tournaments requires no opt-ins or use of a special code. Simply play slots as you normally would at the casino to qualify for a place on the board.
For every €/$1 wagered, you will receive a single point for the leaderboard. The 30 best placing players at the end of the tournament will receive the best prizes.
Unlike many other slots tournaments, there are zero restrictions on the games you can play. Popular choices for the tournament include Bonanza Megaways, Mystic King and Double Lucky Line Slot.
Prize List
The weekly tournament pot is worth €10,000 each week. However, this is a progressive pot, with more player wagers increasing the size of what you can win. Here are the default prizes with no progressive enhancements:
1st Place: 3800 EUR
2nd Place: 1900 EUR
3rd Place: 950 EUR
4th Place: 380 EUR
5th Place: 342 EUR
6th Place: 304 EUR
7th Place: 266 EUR
8th Place: 228 EUR
9th Place: 190 EUR
10th Place: 152 EUR
11th Place: 114 EUR
12th Place: 114 EUR
13th Place: 114 EUR
14th Place: 76 EUR
15th Place: 76 EUR
16th Place: 76 EUR
17th Place: 76 EUR
18th Place: 76 EUR
19th Place: 76 EUR
20th Place: 76 EUR
21st Place: 76 EUR
22nd Place: 76 EUR
23rd Place: 76 EUR
24th Place: 76 EUR
25th Place: 76 EUR
26th Place: 76 EUR
27th Place: 76 EUR
28th Place: 76 EUR
29th Place: 38 EUR
30th Place: 38 EUR
Other Entry Requirements
To join the weekly tournament, you will need to be an existing member of the Cleopatra Casino. Here's our quick step by step on how to join:
Visit Cleopatra Casino using our secure links
Click sign up and fill in your account details
Make a deposit and start playing slots