Play All-In or Fold at GGPoker
All-In or Fold is a fast, all action poker game
AoF is exclusive to GGPoker and is available for both Hold'em and Omaha
New players can get $600 by using the GGPoker bonus code NEWBONUS when registering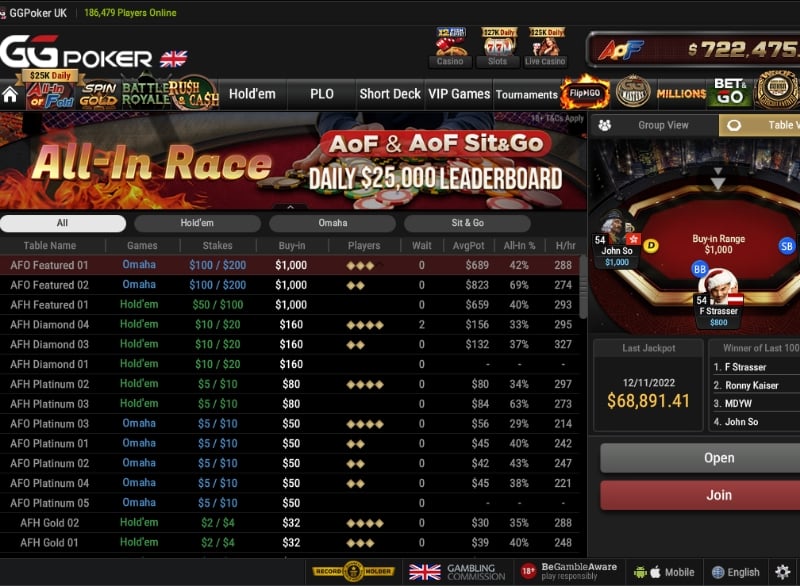 How to Play All-In or Fold

All-In or Fold Jackpot

AoF Hold'Em

AoF Omaha

All-In or Fold Bingo

GGPoker Bonus Code

All-In or Fold Rules and Information
All-In or Fold is one of the most popular games available at
GGPoker.com
.
All-In or Fold is an all action game which is exclusive to GGPoker and is available for both Hold'Em and Omaha.
Simply put, you either go All-In, or you Fold!
The game is played with just eight big blinds. You choose to go All-In or Fold on every hand.
This is a simple, fast paced game which is enjoyed by thousands of GGPoker players every day.
If you're yet to register at the world's biggest online poker site, use the
GGPoker bonus code
NEWBONUS
when joining to get up to $600 in bonus money!
How to Play All-In or Fold
When you log in to your account, you can find All-In or Fold as one of the highlighted poker games at the top of your screen.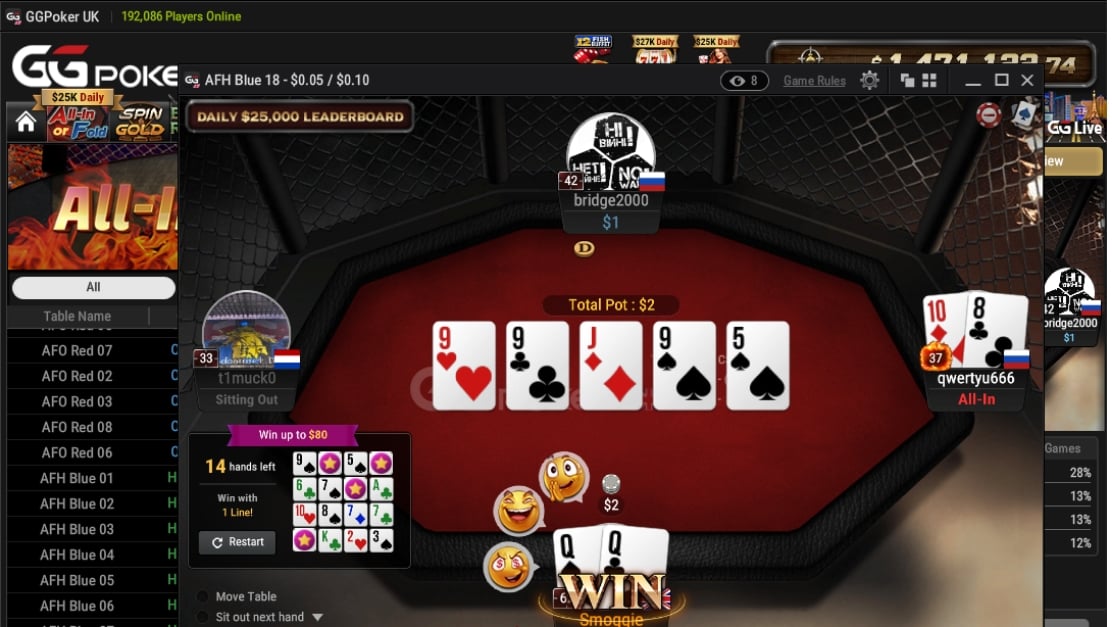 Click on 'All-In or Fold' and you'll be presented with a menu which has a list of available games, with both Hold'Em and Omaha available. You have a range of buy-ins and stakes to choose from.
To start playing, simply click on the game that you wish to enter, and take your seat at the table!
When the game starts, things become fast and furious.
There are eight big blinds. On every hand, you can go All-In or you can choose to Fold.
As soon as one All-In is completed, new cards are dealt and its time to go again.
All-In or Fold Jackpot
Every time you go All-In, you also have a chance to win an instant cash prize in the All-In or Fold Jackpot.
The jackpot builds continuously, with 50% of the fee for all All-In or Fold games contributing directly to the total.
To hit the jackpot in Hold'em, you must make at least a straight flush by using both of your hole cards.
To win the jackpot in Omaha, you must make a royal flush with two of your hole cards.
AoF Hold'Em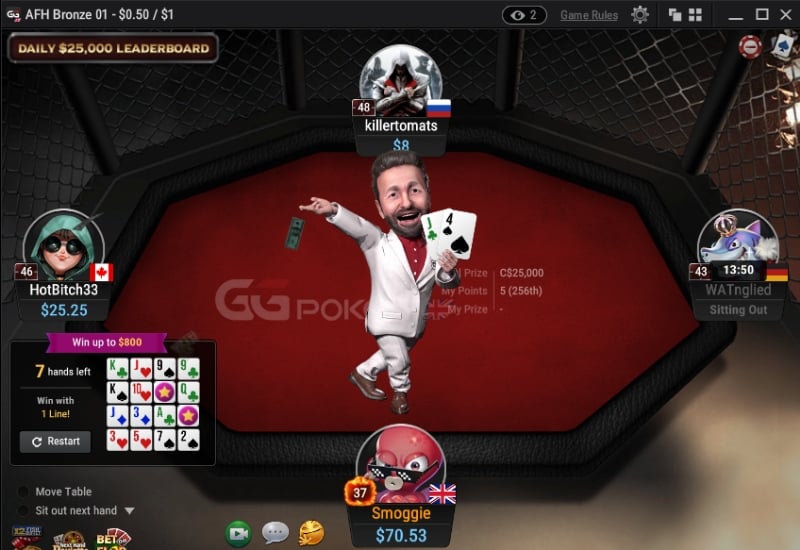 As mentioned, All-In or Fold is available for both Hold'Em and Omaha.
In AoF Hold'em you have two options – Go All-In or Fold!
All-In or Fold has eight big blind buy-ins and players must quickly decide if they want to move all-in on every hand.
You can choose to go All-In or Fold after seeing your hole cards.
AoF Omaha
The buy-in for Omaha is only 5 big blinds. The Omaha version of AoF is even more fast and furious than Hold'Em.
You can see the flop before choosing to go All-in or Fold.
Once you see the flop, you can decice whether you are going All-In or folding!
All-In or Fold Bingo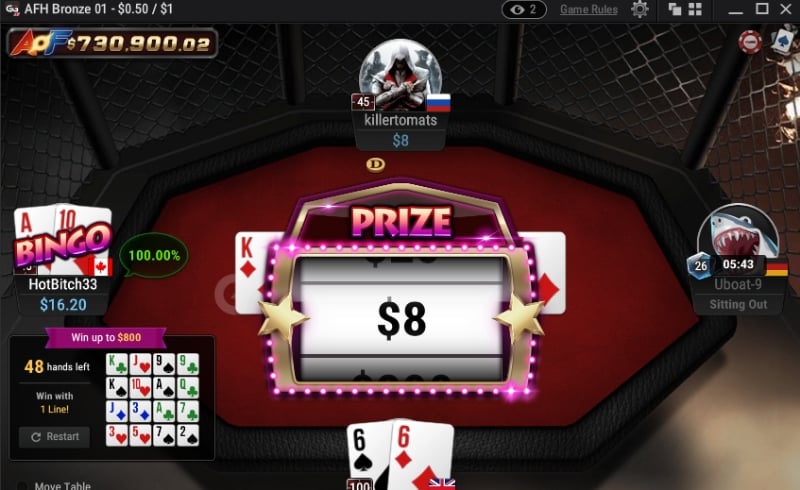 When you're playing All-In or Fold at GGPoker, you also have the chance to win with AoF Bingo. All-In or Fold Bingo sees your hole cards also used as bingo cards!
If you win with your hole cards, then will be marked off on your 4x4 bingo board.
If you complete one full line, you will earn Bingo rewards.
There is a 50 hand limit to complete a line in AoF Hold'Em, and a 20 hands limit for Omaha.
Up to $16,000 can be won with All-In or Fold Bingo!
You can refresh your bingo board at any point by clicking the 'Refresh' button (doing this will also restart your hands limit), and you can restart the bingo board after playing 10 hands.
GGPoker Bonus Code
The GGPoker bonus code is NEWBONUS. This code allows new players to get the biggest available welcome bonus, with up to $600 available.
The bonus is easy to claim. When you register, you can get a 100% deposit match.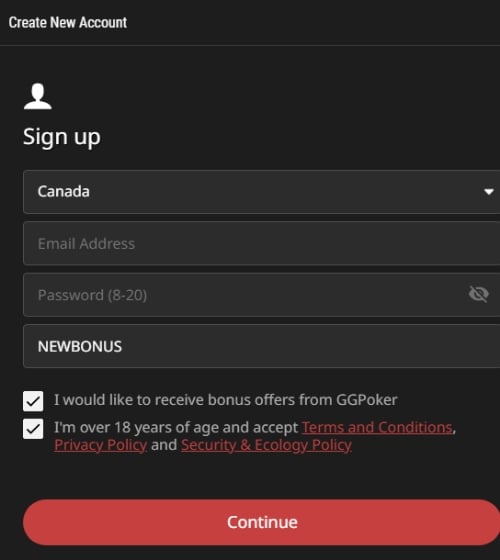 Deposit $600 and you'll get $600 bonus, giving you $1200 to play with
It is quick and easy to get the welcome bonus at GGPoker. Here is a step-by-step guide to registering and securing your bonus:
Go to GGPoker.com via this link. It takes you straight to their official website.
Click the 'Sign Up' button and fill in the short registration form, which asks for a couple of pieces of information such as your email address.
When asked for a Bonus Code, type in the NEWBONUS code.
Your account will then be open, and you can download the GGPoker software.
The GGPoker app is available on PC and mobile. Simply download the app and install on your chosen device.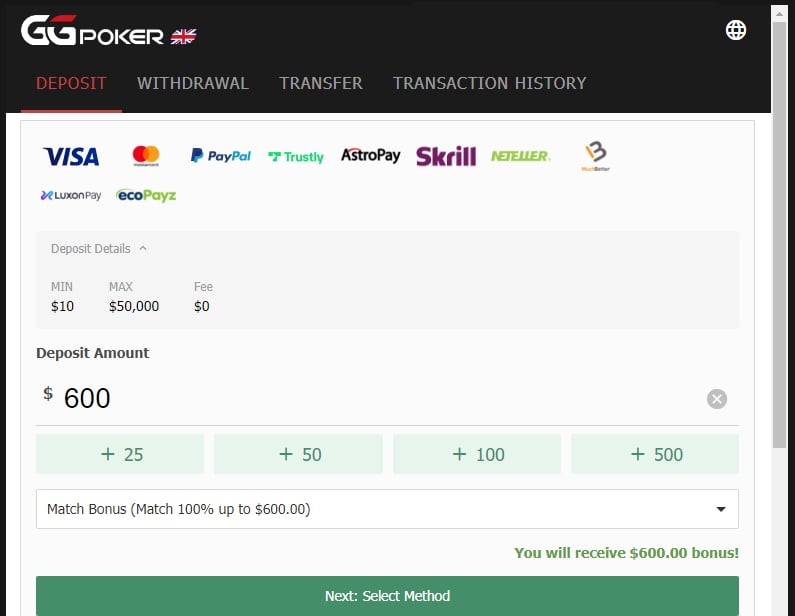 As soon as you have downloaded the app, you can start playing All-In or Fold as well as the many other available games at GGPoker.
Securing the bonus is easy, as explained below:
Log in to your newly-created GGPoker account and click on 'Cashier'.
You'll have the option to deposit money to your account, with all available payment options shown on your screen.
Type in how much money you want to deposit.
Select the bonus you want to claim from the drop-down menu.
Providing you used the NEWBONUS code, you'll see on screen that up to $600 can be claimed.
Click on the 'Select Method' button to confirm the payment method you want to use.
Follow the instructions on screen to complete the deposit.
Your money will then show in your account!
All-In or Fold Rules and Information
All-In or Fold is simple to play. There are a few rules and details to be aware of when playing, including:
Players must be aged 18 and above to participate.
The game uses one deck of 52 cards. This deck is shuffled after each hand.
Prizes are awarded instantly at the end of the hand.
The amount committed to the pot will still be in play in an event of a disconnection.
To hit the jackpot in All-In or Fold Hold'em, you must make the best possible Straight Flush by using both of your hole cards and three of the community cards.
To hit the jackpot in All-In or Fold Omaha, you must hit a Royal Flush with two of your four hole cards.
44% of All-In or Fold fees will be accumulated to the AoF Jackpot from each hand played per player.
Standard GGPoker rules apply. Customer support is available 24 hours a day should you experience any issues when playing.
GGPoker Casino Promo Codes
Tested

Last used 1 hr 22 mins ago

Use the promo code NEWBONUS. GGPoker.co.uk is a brand name of NSUS Limited licensed to conduct online gaming operations by the UK Gambling Commission. 18+ only. Gamble responsibly.