Blackjack Betting Limits: What are the must know facts?
Don't place another blackjack wager until your read our full guide to Blackjack betting limits.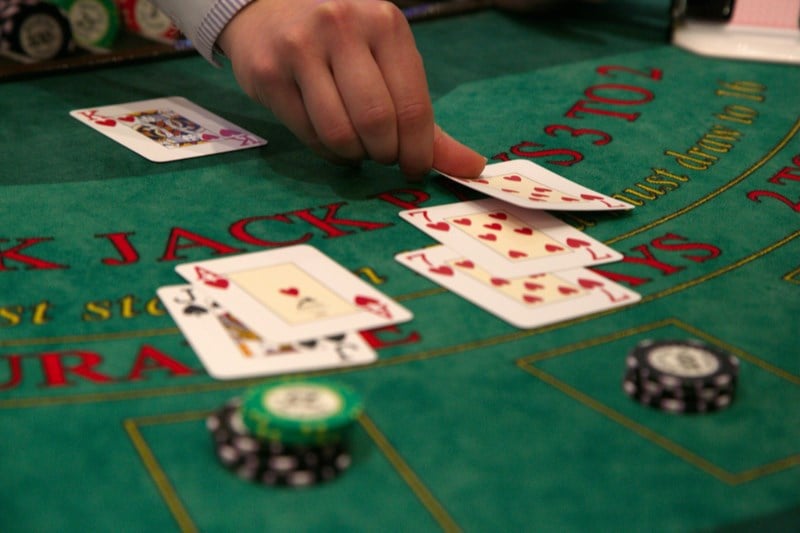 One of blackjack's strengths as a casino game is that it is available at a range of limits.
Because it offers gamblers of all abilities a chance to win, both live and online casinos are keen to spread a range of options.
From recreational players to high rollers and everything in-between, blackjack's betting limits are as varied as the betting systems you can use to beat the house.
Which Online Casinos offer Live Dealer Blackjack?
1
Read the wagering terms. New customers only. 21+ T&Cs and wagering requirements apply.
2
New customers only. 21+ T&Cs and wagering requirements apply.
3
New customers only. 21+ T&Cs and wagering requirements apply.
4
New customers only. 21+ T&Cs and wagering requirements apply.
5
New customers only. 21+ T&Cs and wagering requirements apply.
6
New customers only. 21+ T&Cs and wagering requirements apply.
7
New customers only. 21+ T&Cs and wagering requirements apply.
8
New customers only. 21+ T&Cs and wagering requirements apply.
9
Must use BETMGM bonus code NEWWORLD1. New customers only. 21+ T&Cs and wagering requirements apply.
10
FREE CASH PLUS DEPOSIT MATCH. Use the promo code UBCASINO10 when you register to get $10 free play. Get $500 deposit match using promo code UBCASINO500. T&Cs apply. Over 21s. NJ residents only.
11
Use the promo code NEWBONUS. GGPoker.co.uk is a brand name of NSUS Limited licensed to conduct online gaming operations by the UK Gambling Commission. 18+ only. Gamble responsibly.
12
New Casino customers only. Deposit/transfer min. $20. Applies to first deposit to Casino only. Max. bonus $200. 15x wagering (game weighting applies) on deposit and bonus to make the bonus balance withdrawable. Time limits and T&Cs apply.
Live or Online Blackjack
The first distinction it's important to make when looking at blackjack betting limits is whether you're playing live or online. Because brick-and-mortar casinos have a number of overheads the minimum gaming limits will often be a lot higher than online.
In general the least amount you'll be able to play for in the live arena is $5 per hand. In contrast, online blackjack allows you to play for much smaller betting limits, meaning it's a great medium for novice players to hone their skills.
Although different online casinos will have different rules, it's common that you'll be able to play for $0.05 per hand in the virtual sphere. Thus, if you have a small bankroll then playing blackjack online is obviously the most sensible option.
Playing High or Low
Away from the differences between online and live blackjack's betting limits, it's important to look at each table in order to establish which ones will give you the most play relative to the size of your bankroll.
For example, if your starting bankroll is $1,000, then it doesn't make sense to play at a table where the smallest bet allowed is $100 because a rush of negative variance will send you bust in just 10 hands.
Beyond this assessment of the minimum blackjack betting limits allowed, it's also wise to consider the maximum bet. The reason for this is that a strong run at the table may allow you to increase the size of your bets.
Playing a rush is often something you'll hear experienced blackjack gamers say, so if you intend to follow this ideal then you need a table with betting limits that are large enough to allow it.
Splitting and Doubling in Blackjack
Once you've assessed a blackjack table's betting limits, you need to look at how one key feature of the game can affect how much you have to risk. Once you're in the game you will often have the ability to double down and the split your cards but in order to do each of these you need to risk more money.
Indeed, doubling down requires you to match your initial bet and the dealer then gives you just one more card.
For example, if you bet $30 at the start of the hand and wanted to "double down", you'd need to put another $30 in the pot. Players usually "double down" when they have a strong hand (9, 10 or 11) and the dealer is weak (12, 13, 14 or 15).
Splitting is an option that becomes available when you're dealt cards of the same value, e.g. two tens. At this point you are allowed to split them into two separate starting hands and receive and card on each if you match your opening wager.
After splitting, the hand continues as before with the options of standing, hitting, doubling or splitting again (if appropriate).
Obviously splitting and doubling require additional bets to be added to the table so this must be taken into account when choosing your blackjack betting limits. At all points you need to consider your bankroll so if you want to double and split then you need to choose a table with slightly lower overall betting limits.
What are the blackjack betting limits in Las Vegas?
The maximum you can bet on a blackjack table on the strip is $50,000 for a single hand. You will find three of these high stakes tables at Caesars.
What is the maximum bet in blackjack?
There is no maximum bet in blackjack as each casino sets their own table limits.
What are the table limits in Las Vegas?
Bets can start from just $5 but you will find tables with max betting limits of $10,000+.
What is the minimum bet in blackjack?
Once again, these values are set by the casino - so there is a variable amount of minimum betting limits. In UK online casinos, bets can start from pennies - and even Vegas casinos will let you bet just a few bucks.
Our Verdict
Overall, blackjack betting is a relatively simple part of the game you need to master, but if you don't always consider your bankroll then you could find yourself playing in games that are too costly.