Grab your Degen Pass and step into BC.Game's NFT universe
The Degenverse is BC.Game's very own slice of the Metaverse.
A collection of 1777 genesis passes make up the Degen Pass.
Customer perks, mystery rewards, and more await Degen Pass holders.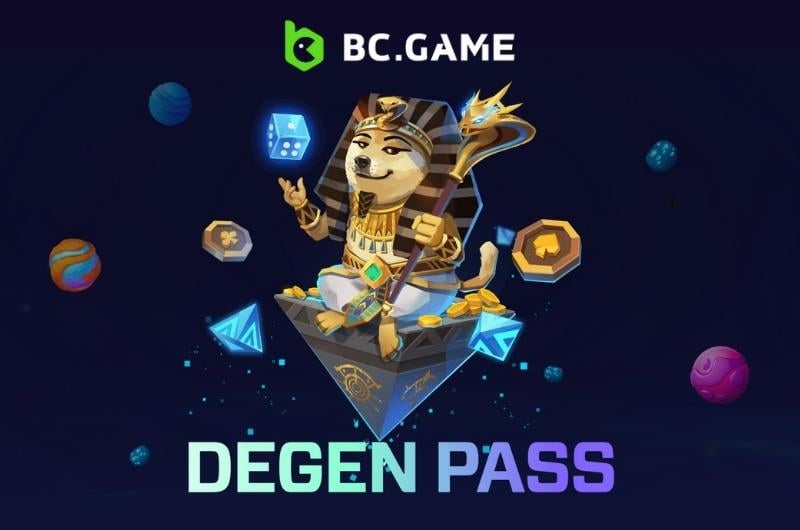 What is the Degenverse?

Tell me more about Degen Pass

What can I do with a Degen Pass?

How can I get a Degen Pass?
BC.Game has unleashed an exciting new way to play for Metaverse users. The Degenverse is open and ready to welcome all who hold a Degen Pass. Do you want to be a part of this brave, new world? Keep reading and get ready to be rewarded.
When it comes to adventure and innovative ways to explore the crypto world,
BC.Game
is always ahead of the pack. Once again, this crypto casino has changed how we interact with online casinos and NFTs with the release of the Degenverse.
What is the Degenverse?
The Degenverse is BC.Game's own slice of the Metaverse. Ruled by the mighty DegenGod, who makes all the rules, you must have a Degen Pass to be a part of the action.
The Degenverse is backed by BC.Game Casino, but it expands its reach far beyond a single betting site. An entire portfolio of casinos will be available when visiting the Degenverse, giving you access to everything these operators offer.
Think of it as a virtual Vegas Strip filled with the
best crypto casinos
where you can explore and win as you please.
Tell me more about Degen Pass
Found on the
Ethereum blockchain
, a Degen Pass is a genesis or founders pass created for those who are the first to access the Degenverse ecosystem. Essentially an NFT that lets you access this slice of the Metaverse, this pass is part of a collection of 1777 NFTs.
The pass is how BC.Game intends to give players access to the Metaverse and revolutionise iGaming in Web3. More than just another way to play online casino games or bet using crypto, the Degenverse is about experiencing an immersive iGaming world where winning crypto and NFTs will be the norm.
What can I do with a Degen Pass?
With a Degen Pass in hand, you can access a whole new universe. There are a multitude of exciting ways to win and play available. Here are a few examples:
Full access to the portfolio of supported casinos
A share of jackpot prizes from multiple betting sites
A custom avatar that will be displayed at BC.Game
Guaranteed airdrops filled with mystery prizes
Early access to the DeFi betting app powered by BC.Game
The Degen Pass is only the start of what the Degenverse has in store for players worldwide, so be sure to get your hands on one before it's too late.
How can I get a Degen Pass?
Due to the total supply of Degen Passes being limited to 1777, there are only a few ways to get one as a Degenverse founder.
Buy - Purchase Degen Passes on Open Sea when available. There is a limited number, and they are only up for grabs for a specified period. One pass will be available for minting per wallet.

Wager - When wagering at BC.Game, there's a good chance you could receive a Degen Pass when you're on a winning streak. The casino will keep a close eye on lucky players, and they could be contacting you to be a part of the Degenverse.

Play - Wagering events like the BIG BANG promotion will run from time to time. One of the prizes available during these events will be a Degen Pass, so don't miss out.

Win - Official whitelist giveaways will be available through BC.Game's Twitter and forum. Take part in the giveaways and win!
There are no set dates for giveaways or events, so keep your eyes peeled for more information and follow
BC.Game
on their official social media accounts. Don't miss your chance to explore the Degenverse before the rest of the world.
BC.Game Casino Promo Codes
Tested

Last used 8 mins ago

Use the BC.Game Referral / Promo Code NEWBONUS on sign-up to claim. 18+. T&Cs apply