NetEnt Perfect Blackjack aims to produce perfect results
Has NetEnt created the most efficient blackjack game ever?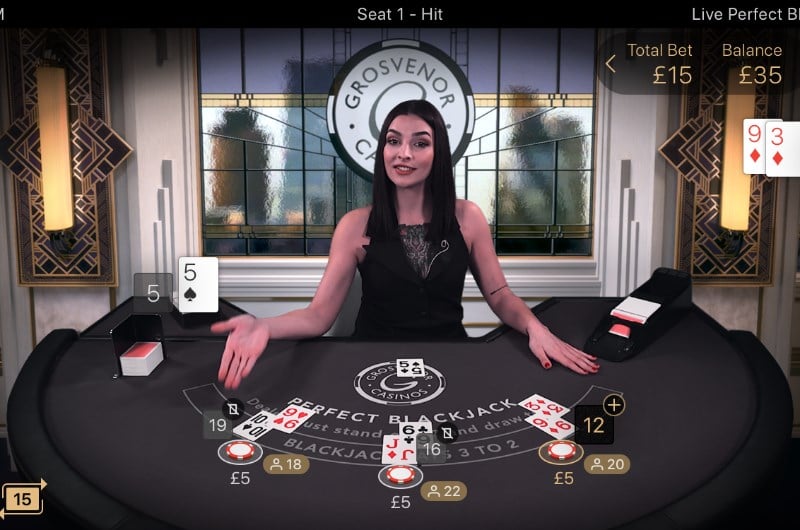 NetEnt's new Perfect Blackjack table has gone live at UK's Grosvenor Online Casino. And as the name suggests, this room aims to produce exceptional results with every hand. The new live dealer table is a fast-paced game of blackjack which is tailor-made for new players.
What is Perfect Blackjack?
Seasoned 21 veterans will know the optimal hands and plays for a game of blackjack. But newbies could be intimidated trying to learn the best plays for a hand. Sure, there are strategy charts - but it is still an added layer of complexity. Perfect Blackjack removes those barriers - dealing cards in line with
perfect blackjack strategy
.
This means you won't have to worry about sticking or hitting on each hand. You can also choose to automatically split your hands or double down. Again, these are two more advanced moves that could prove off-putting to debut players.
The only aspects of the game that are not automated are the optional Perfect Pairs and 21+3 side bets.
NetEnt's Perfect Blackjack is currently only available at
Grosvenor Casino
. But the Swedish software developer aims to open the game to more casinos at a later date.
Reasons to play NetEnt Perfect Blackjack
Despite the friendliness for new players - there are plenty of reasons for veterans to give this a whirl.

Fast paced games: Each game round lasts on average 30 or so seconds. There is virtually no other live dealer blackjack game that can match this pace. With these fast rounds, players can enjoy a larger volume of betting sessions.
Optimal plays every time: Yep, there's no need to tab over to a strategy chart. The dealer will play the most efficient hands every time. This means you can enjoy a more relaxed live dealer experience.

Learn helpful tips: The dealer is talkative - and will continuously comment on what they are doing. Even down to the results of each hand. This gives newer players some crucial insight into why decisions are being made.

The only slight blemish to this game is that it's so fast, it is difficult to keep up with all the moves being made. And if you are a new player aiming to develop perfect blackjack strategy, then you may be overwhelmed by what's happening.
Perfect Blackjack Live Dealer
NetEnt live dealers
are always a pleasure to bet with. Unfortunately, the dealer in this game is far more concerned with the speed of hands and efficiency. Of course, there's nothing wrong with this if you want quick betting rounds.
But if you are looking for a social experience, then we do suggest you try another game - like Evolution's Blackjack Party. Pair this game with some kind of strategy chart and you could get the best of both worlds.
Perfect Blackjack Verdict
Results focused players will take an instant shine to this game. The rapid action paired with flawless hands drives down the house edge to just 0.5%. But is this a fun live dealer experience? It depends on what you describe as fun. For a full game breakdown, read our
Perfect Blackjack NetEnt review
.
Where can I play Perfect Blackjack?
Blackjack Games Previews & Tips
Latest news