What is Bluejay's Half-Bankroll blackjack strategy?
We look at a unique strategy that grinds down the 1% house edge into dust...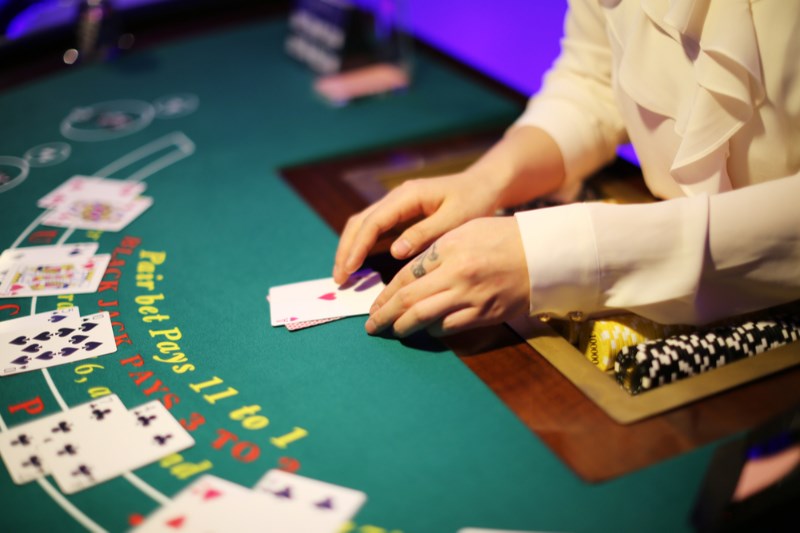 The one thing you need to be aware of when implementing any blackjack betting strategy is that the house always has the edge and in the long run your expectation is an overall loss.
Although this loss is relatively small in statistical terms (around 1%), it could be pretty significant in terms of your dollars spent if you risk your bankroll over a large number of hands.
Which Online Casinos offer Blackjack?
0
1
Read the Unibet Casino NJ review . FREE CASH PLUS DEPOSIT MATCH. Use the promo code UBCASINO10 when you register to get $10 free play. Get $500 deposit match using promo code UBCASINO500. T&Cs apply. Over 21s. NJ residents only.
2
3
4
5
6
7
8
9
This knowledge is important when discussing the half-bankroll blackjack betting strategy because there is a way to exploit this long-term disadvantage and that's play short.
Over the course of one hand you will be less prone to absorbing this overall disadvantage and if you can use certain betting methods you won't have to contend with this -1% expectation.
The Full Bet
So how can you overcome this 1% I hear you cry?
Well, the simplest way to do this is by betting 100% of your stack on a single hand of blackjack. Following this strategy will theoretically cause you to avoid the 1% disadvantage by putting you a position where you'll either lose 100% or win 100% of the time.
Although this strategy won't suit everyone, the basic principle it's trying to exploit is that the fewer hands you play the less significant the house edge becomes. Thus, if you can make one single shot you'll find the casino's advantage is greatly reduced.
The Half Bet
Of course, betting your entire bankroll on a single hand of blackjack probably isn't the best thing to do, so to take this concept a step further you can use the half-bankroll betting system. As the name suggests, with this method you divide your bankroll into two parts and make two equal sized bets.
In theory this technique means you'll stand more chance of breaking even than making a profit, but it also means you stand less chance of losing. Indeed, using the half-bankroll betting method you'll encounter the following outcomes:
Win, Win. (You doubled your money)
Lose, Lose. (You lost all your money)
Win, Lose. (You broke even)
Lose, Win. (You broke even)
When to Quit
While the prospect of breaking even probably isn't enough to get you to try the half-bankroll method, the strategy takes an interesting twist when you add the caveat that you'll quit after you win a hand.
For example, let's say you split your $20 into two parts and with you first $10 you win and walk away from the table. In this scenario you theoretically decrease your chances of breaking even and increase your chance of a profit.
Putting this in terms we've used before, the potential outcomes are:
Win. (You're ahead by half; 49.3% chance)
Lose, Win. (You broke even; 25% chance)
Lose, Lose. (You lost everything; 25.7% chance)
Our Verdict
Although the half-bankroll blackjack betting system won't be for everyone, the main principles behind it are certainly worth bearing in mind. Indeed, if you can appreciate that in the short-term you have a greater chance of beating the casino than in the long-term, then you can use this to your advantage.
For some the idea of betting everything (or half of everything) on a single hand of blackjack will be more risk than they are willing to accept, but if you're preparing to go for it without fear you'll find that it can be an excellent way to boost your bankroll.
Latest Strategies Articles
Latest news