High stakes blackjack pro crushes odds with $2,455 win
Perfect pairs and a suited three of a kind in one hand? It seems like an impossible outcome - but not for this blackjack master...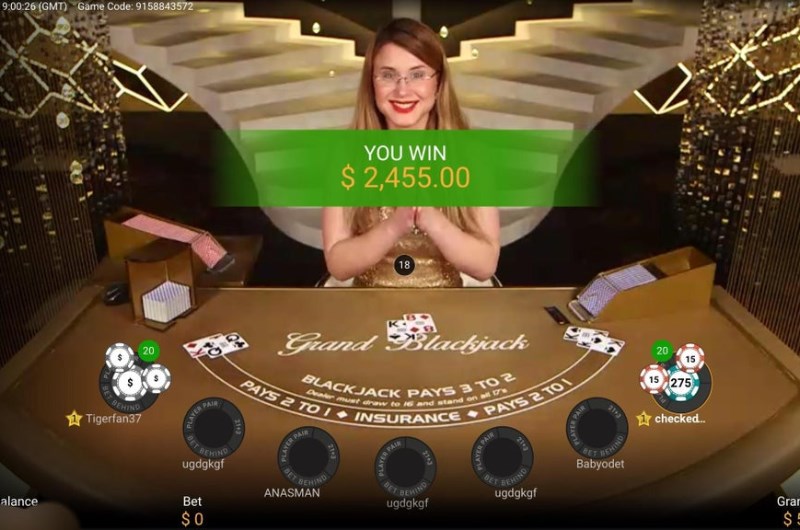 An incredibly lucky blackjack player has defied all odds and won $2,455 on a single hand at a Playtech casino.
Reddit user checkedem managed the feat with a combo of stunning side bets. A well placed perfect pairs and 21+3 bet made all the difference in this thrilling betting round.
Odds of Blackjack Side Bets
By themselves, these popular Blackjack side bets have low odds of triggering. But both happening at once? That's the stuff of fairy tales right there. This once in a blue moon event happened at the ever popular
Casino.com
.
The Canadian Reddit user placed 15 chips on the respective side bets, alongside the 275 chip main bet. With a pair of suited Kings, checkedem already had an edge over the dealers King and 8 card.
The Blackjack ace had already bagged the 25:1 perfect pair bet from his own hand. But thanks to the dealers King up card - they also secured the final piece to this impossible puzzle: a 100:1 win from the 21+3 bet.
If you're a seasoned Blackjack pro, you will already know how unlikely this kind of result is. And we also found it hard to believe - but there's a screenshot to prove the win as well. New to the game and need some explanation on the side bets? Let's take a look.
Perfect Pairs Blackjack: What is it
The perfect pairs blackjack bet is a wager placed at the beginning of a betting round which is separate from the main game result. And it pays out if you are dealt a pair, like two Queens for example. But this payout also varies depending on other factors.
Suited pairs, matching colours or mixed colours can also have an impact on the payouts of the bet. Now in the context of checkedem's win: the player was dealt a pair of Kings. And these Kings were of the same suit (spades).
This is what is known as the perfect pair - and pays out at 25 to 1. What's the probability of this bet triggering? Incredibly low is the answer: a mere 0.016% chance!
But as jaw-dropping as that figure is, it's nothing when you also take into account the second, even lower probability side bet...
Blackjack 21+3 Explained
This is yet another side bet that is placed at the start of a betting session and is yet again separate from the main game bet. This bet takes into account not only the players hand - but also the dealers too. The cards from each are used to make a three card hand.
The paytable for this bet is reminiscent of poker with flushes, straight flushes and even a three of a kind. Once again, checkedem shows just how lucky he was when you examine one of these tables closely.
During his betting round - he landed a suited three of a kind, one of the most unlikely of all the results paying out at 100 to 1. In fact, the probability of this event is just 0.0002%.
With a story like this, it makes sense why so many players like to enhance their gameplay with a little on the side action...
Blackjack side bets: Are they worth it?
And now for the big money question: should you try your hand with more side bets? After all, if you see results like checkedem, surely they are worth it right? If we were honest, we would say that they can be fun - but you shouldn't depend on them.
The reason these bets have such good odds is that they happen on rare occasions. You could endure multiple betting rounds without seeing a single successful side bet win.
In fact, having a
solid blackjack strategy
is a far more crucial addition to your gameplay. With their huge payout potential - it's easy to ignore the game fundamentals in favour of alluring and valuable side bets.
But if you do have the basics down - then there's nothing wrong with placing the occasional bet for some extra payout. While Playtech does have world-class live dealer tables - it's
Evolution Live Gaming
that takes our votes as the Kings of the live casino.
With their state of the art tables and favourable odds on side bets, you can be guaranteed an exciting time. And if you are getting in on the side bet action - then hopefully a lucky time too!
Best Evolution Live Dealer Sites
1
New customers only. 21+ T&Cs and wagering requirements apply.
2
New customers only. 21+ T&Cs and wagering requirements apply.