Sail away for 7 nights of luxury in this Casino Cruise prize draw
Deposit and play to enter the draw for a luxury cruise around the Mediterranean...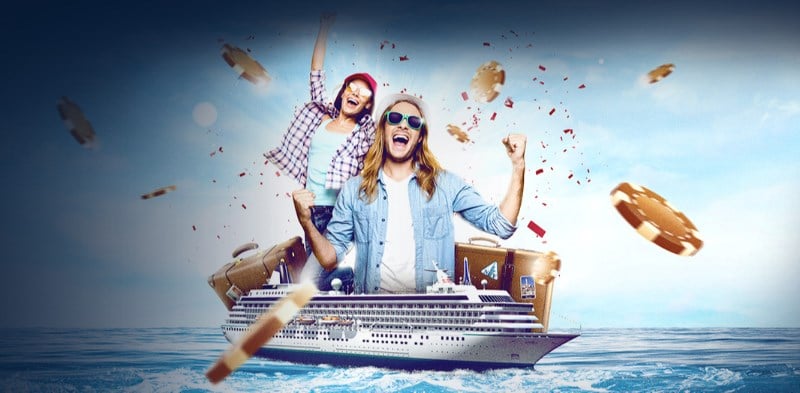 Casino Cruise is living up to its brand name with yet another sensational offer. They are giving one lucky player the chance to win a deluxe Mediterranean cruise.
Setting sail from Barcelona, you and a friend will sail around Europe during a 7-night cruise. There's beautiful views, fine dining, the best entertainment and access to all ship facilities. All of which guarantees the trip of a lifetime.
So how do you win this luxurious prize? If you want to cruise the Mediterranean in style, then follow our full promotional guide.
Key Facts
Win a Mediterranean cruise for you and a friend with Casino Cruise
The ship departs from Barcelona, Spain
Prize includes air travel, food, drinks, entertainment and much more
Destinations include: Marseille, La Spezia, Civitavecchia and Naples
Further terms apply - see end of article for details
How to win a 7-night luxury cruise
This prize seems guaranteed to spice up anyone's Summer holiday. And joining in doesn't get much more simple:
1. Head over to Casino Cruise
The promotion is only open to existing players - but you can join in once you join the site. Registration will take minutes of your time - and you will get access to the new player bonus.
Click here to go to Casino Cruise
.
2. Opt into the promotion on the offers page
You will need to click on the "Seven Nights of Luxury" offer and flip the opt-in switch. This guarantees that all your play will count for the promotion.
3. Deposit and play through £50
By doing so, you will earn a prize draw ticket. And this means you will go into the hat when the promotion ends on the 30th of September.
Which Tip: There is no limit to how many tickets you can earn during the promotion. Every time you deposit and play through £50, you will earn yet another ticket. The more tickets you have - the better your overall chances of winning.
Terms and Conditions
The promotional period is from 00:00 GMT Monday 8th July until 23:59 GMT Monday 30th September 2019.
Any gameplay outside this promotional period will not be included in the promotion.
Gameplay on any device applies (Mobile, Tablet and Desktop).
You will be required to opt-in to participate in the promotion.
Each player will get one prize draw ticket for every accumulated £50 (or currency equivalent) that is deposited and played through on any game during the promotional period.
Only real money will apply towards earning prize draw tickets.
There is no limit to the number of tickets that a single player can get during the promotional period.
Further terms apply - see site for details