Real Baccarat with Sarati Launch - Cinematic Baccarat available on all devices
Real Baccarat with Sarati is now available at Microgaming casinos. Join the charming Sarati & play the most cinematic hand of baccarat ever. Here's where you can play it.
Real Roulette with Sarati Review

Gameplay & Features

How to play

Review

FAQ
Real Dealer Studios reveals its next cinematic casino experience in Real Baccarat with Sarati.
Microgaming
has announced a new online table game: Real Baccarat with Sarati - the next immersive experience from Real Dealer Studios.
Debuting with the popular "Real Roulette" series, the studio has now turned their cinematic skills to the game of baccarat.
Best Microgaming Live Dealer Sites
1
FREE CASH PLUS DEPOSIT MATCH. Use the promo code UBCASINO10 when you register to get $10 free play. Get $500 deposit match using promo code UBCASINO500. T&Cs apply. Over 21s. NJ residents only.
One of the USPs of these games is the fusion between cinematography and RNG, creating a truly unique gambling experience.

Launching at Microgaming sites, Sarati returns for another bout of ultra cinematic gambling in this brand new table game. Find out more about the features below.
Gameplay & Features
On the surface, Real Baccarat with Sarati looks like a live dealer game. But the footage is actually pre-recorded - and the dealer is a paid actress.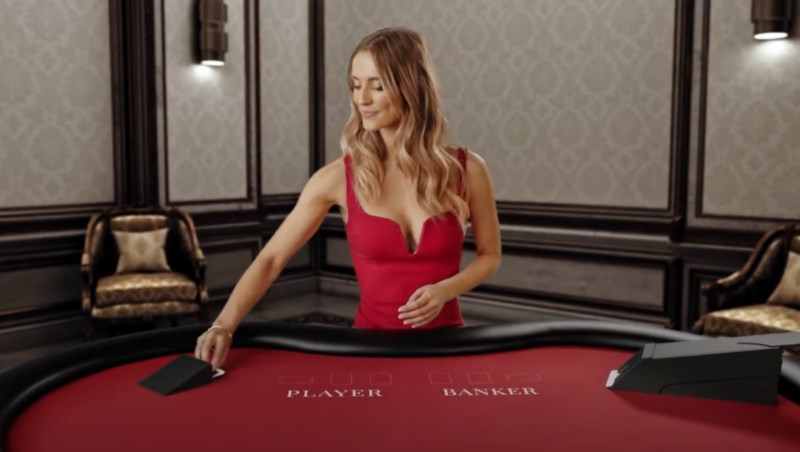 Using masterful filming techniques, the studio creates an immersive baccarat experience like no other.
Each of the dealer's actions during the game is professionally recorded for an ultra-immersive experience. From dealing the cards - to revealing the results; a wealth of footage ensures the game remains fresh.
As for the quality of the acting, Sarati is charming and pleasant to play with. She will not only marvel at your triumphant wins - but will even react if you make a loss.
How to play
Real Baccarat with Sarati is an online baccarat game that can be played on mobile or PC devices. Despite the change in aesthetics, the goal of the game remains the same. Players can bet on one of three positions: the player, banker or tie bet.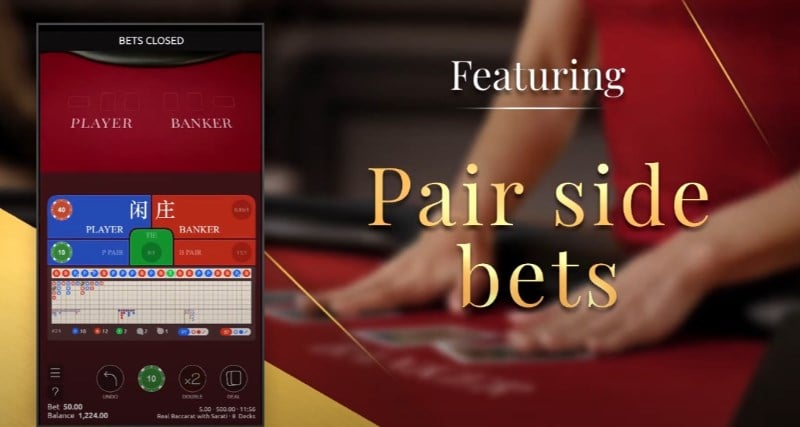 Once you have confirmed your bets, Sarati will deal your cards for you. The best hand in a game of baccarat is nine - and the winner will be declared by which hand is closest to nine.
Hand values are similar to those in a game like blackjack - with cards 2 to 9 retaining their face value. However, unlike blackjack, any hand over the value of ten will lose the first digit - creating a single number score.
Side Bets
Optionally, members can choose to play the pair side bet before each game round. The bet pays if you are dealt a pair of cards and you can wager on a player pair - or a banker pair.
Road Map
Built-in to the game is a deluxe roadmap showing you the results of past game rounds. While this information can't help form a winning strategy, you can see that all results are randomly generated.
Review
The Real Roulette series innovated with a new standard of production not before seen in online games - Real Baccarat with Sarati continues the tradition with high production values, cinematic style and classic gameplay.
FAQ
Where can I play Real Roulette with Sarati?

You can play this new table game at all Microgaming casino - Real Dealer Studio games are exclusive to the platform.
What is the best bet?
The banker gives you the best chance of winning due to the three-card advantage. You will have to pay a commission for betting on this spot, however.
What is the chance of the Tie bet winning?
The tie bet in baccarat has a 9.6% chance of winning - making it the riskiest bet in the game.
Fortune Jackpots Casino Promo Codes
$800 + 100 bonus spins

Use promo code NEWBONUS

Tested

Last used 1 hr 29 mins ago