Mobile roulette brings the casino classic into the palm of your hand. Find out why you should be playing this version of roulette on your Android or iOS device today.
Playing Mobile Roulette

Mobile Roulette Free

Android Roulette

iPad Roulette

iPhone Roulette

Mobile Roulette FAQs
Best Mobile Roulette Casinos
Playing Mobile Roulette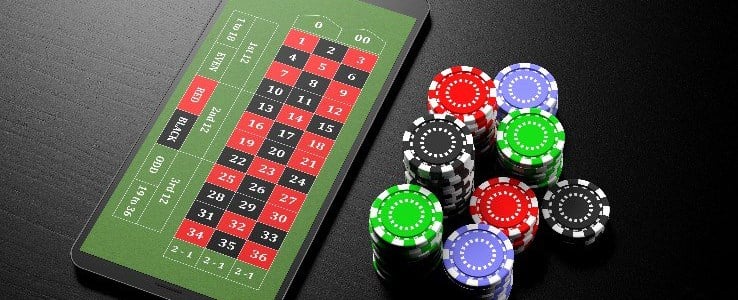 Enhanced graphics, ultra-smooth gameplay and the chance to win big money make online mobile roulette one of the best games around. Whilst most sites offer this game for desktop players, you want to know which casinos offer mobile roulette that you can play anytime, anywhere. In this article, we've compiled a list of the top sites for you to choose from plus we've included information about the best mobile roulette bonuses and apps currently available.
Roulette is without a doubt one of the most popular games on the casino floor. It has loads of betting options, wagers to suit every budget, fast gameplay, and tons of variations. Those are also the reasons that online mobile roulette is such a massive hit.
The number of different
online roulette games
available might put some people off, as it can be hard to know where to start. But never fear! American, European, and French roulette are the three main versions to look out for. If you aren't familiar with the differences between them, check out our handy guides for all the info.
All three versions (and more) are available to play on the go. Every online casino worth its salt will have a fully optimised mobile website or a purpose-built app. Some will have both, or even multiple apps for different sections of the casino. No matter what device you're playing on, you'll be able to find a mobile roulette game that suits you.
Live dealer roulette is the closest you can get to a real casino floor when playing online. You'll be able to bet and sometimes interact with the dealer as you play. Again, all the main online casinos will have a live dealer section which will be available on their mobile websites and apps.
If you're new to the game, it's worth looking out for a mobile roulette no deposit bonus to get you started. This will enable you to play the game for real cash without the risk of losing your own money.

Online casinos will often use no deposit promotions to attract new customers. However, no deposit bonuses related to roulette will most likely have wagering requirements, so not all players will profit from these promotions. But, that's part of the real money challenge. It's also a great way to dip your toes in the water and experience the thrills and excitement of mobile roulette.
Mobile Roulette Free
As we said above, all of the biggest online casinos will have roulette available through their mobile platform or app. Many will also have a free demo mode, which is definitely worth looking out for. It may be accessible by going to the website without logging in, or by clicking the information panel in the thumbnail of the specific game.

As highlighted in our full roulette reviews, seeking out free mobile roulette games is essential if you're a new player. It helps you get to grips with the rules of the game without having to worry about losing cash. Even if you're a seasoned player, a free demo mode enables you to try out new variations risk-free.
You obviously won't win any cash when you're playing for free, but it's a great way to hone your strategy and technique. You'll find that your bankroll will last a lot longer when you put in some practice time on the demo mode first.
The only roulette games that won't feature in the free demo mode are the live casino roulette games. These are a great way to experience playing with a real-life dealer, but you'll always have to bet with real cash. Luckily, you'll find plenty of versions with wagers starting from just £/€0.10.
Android Roulette
If you're a fan of the Google operating system, you'll have no problems finding a game to suit you. It used to be that iOS had the lion's share of the good mobile casino games, but Android roulette is now every bit as popular as its Apple counterpart.

Almost all of the big-brand casinos that have an iOS app available will also have an Android app. This is due in no small part to the huge number of devices that now run Android software.
You'll find that some of the biggest casinos will have up to three apps available: one for the sportsbook, one for the slots, and one for the card and table games. If you're a roulette fan, the latter is the one to look out for. The apps have been specifically designed for games like roulette, blackjack, and poker, and as such will offer the most user-friendly experience.
iPad Roulette
If you want to play roulette while out and about, iPad roulette is one of the best options. The size of the device lends itself really well to the game, and if you're using an app you can enjoy full-screen detail and functionality. Even when you aren't using an app, the larger screen makes navigating the mobile websites very easy.

All of the online casino apps available in the App Store are fully optimised for use on both the iPhone and the iPad.
iPhone Roulette
If you don't have an iPad, iPhone roulette is the next best thing. The only difference between the iPad and iPhone versions are the screen sizes. Although the iPad is obviously more user-friendly with the larger screen, the iPhone can easily handle all aspects of the game. Even placing split bets and street bets (explained in our full reviews) is easily achieved on the smaller screen.
Mobile Roulette FAQs
Is there a mobile roulette strategy?

Because roulette strategies are formulated based on the type of roulette table - all existing strategies will also apply to mobile. This means systems like the Paroli and Martingale are perfectly adequate for mobile betting.

Do I need to download a roulette game to play?

Online casinos no longer require additional software downloads on mobile - you just need to play in your mobile web browser.

Where can I find a mobile roulette casino?

The mobile casinos on this page all offer roulette games and will give you a sign up bonus for joining and making a deposit

Are free mobile roulette games available?

Yes, there is. You can play mobile roulette games by claiming a no deposit bonus or by taking advantage of the free play option available at some sites.