Nerves of Steal Slot Review
Nerves of Steal brings game show style action to your mobile or PC device. Find chips and win more valuable prizes in this new gambling experience...
Nerves of Steal by Gamevy is the gambling game show experience of your dreams.
One of the most exciting games in recent memory, this is not a slot or a live dealer game. This is a pick and click style game - with a unique twist. And it's a twist that is sure to delight thrill seekers
In terms of game aesthetics, Nerves of Steal is decorated like a 70s style game show. In the background, we can spy coliseum style pillars and an animated blend of stars and bright lights. Adding to the game show like experience is the silhouette of a cheering audience.
Click on the play button and you will find the most notable nod to classic TV game shows. A grid of boxes with bright Vegas-style lights completes a dazzling experience. But can this game recreate the same kind of excitement generated by games like Deal or no Deal? Let's find out:
Nerves of Steal Bonuses
The Nerves of Steal game is relatively easy to play. First, you will need to pick your bet. Once you are happy, click on the play button and you can start the game. You will be given a grid of 5 x 10 squares. The objective is to pick from these squares and reveal chips that will add to your prize counter.
The more chips you find, the higher your eventual prize. But there is a catch. If you choose a box that doesn't contain a chip, then your winnings will be reduced. On top of this, you only get a maximum of four nonwinning picks. If you mis-pick four times, then you lose all of your winnings and your original stake.
This is where the game gets interesting - because there is an option to cash out at any time. Nerves of Steal offers players a rare and exciting opportunity to take their winnings - or gamble for even greater rewards. If you enjoy the gamble option in an online slot game, then this instant win beauty will certainly appeal to you.
Play Nerves of Steal
Fans of scratch cards, lotteries or even pick and click slot bonus games will love Nerves of Steal.
With its charming retro design and nail-biting gameplay, this is one of the most thrilling gambling experiences of recent memory. What we love most about the game is the constant tension that builds and builds.
You will see what we mean when you pick four chips in a row and build up a substantial winning streak. Do you click the next box? Developer Gamevy definitely named their latest game appropriately. Give it a go now on your mobile, tablet or PC device.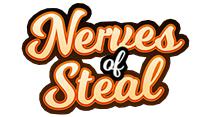 Related Games