Join the Clash of Spins for huge prizes at Videoslots Casino
Beat your rivals in a battle of the reels for big prizes...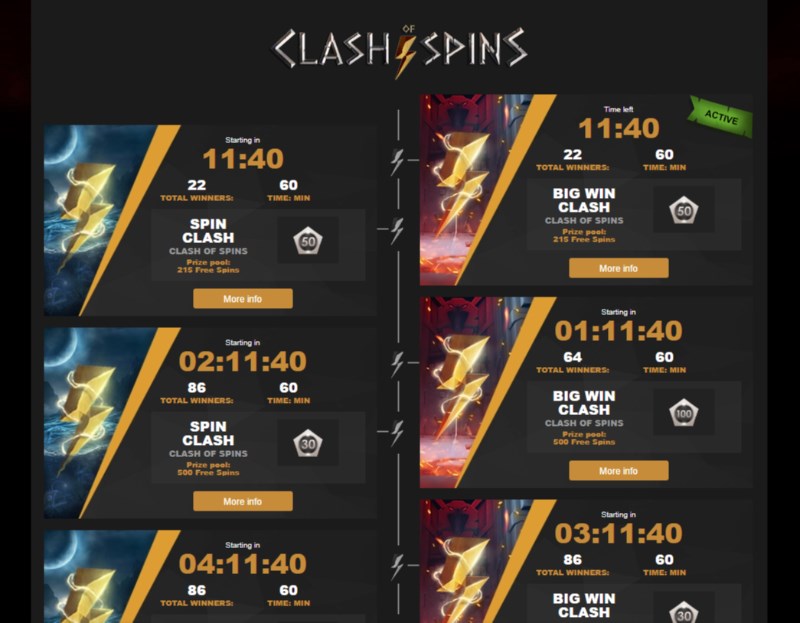 Take on your fellow players in an epic battle of free spins every day at Videoslots Casino - the Clash of Spins is happening right now!
Each day, there are mega free spins and cash prizes up for grabs. And all you have to do to win is beat the competition. There are several tournaments for you to choose from - with different mechanics for each one.
How to join the Clash of Spins
Want to be in contention for one of those daily free spins prizes? Follow the simple instructions below:
2. Choose your favourite Clash of Spins tournament
3. Spin and win for big prizes
Clash of Spins: How does it work?
Every day Videoslots Casino players battle it out in a competition of spins. And there are two main clashes happening at the site every day. These are the Big Win Clash and the Spin Clash.
Big Win Clash
Your objective is simple - land the biggest wins you can and rack up points! The more points you land, the higher up on the leaderboard you climb. And the better your free spins prize...
But what counts as a big win? Thankfully, the casino hasn't left you in the dark. There are actually three categories of wins: the Big Win, Mega Win and Super Mega Win. See the table below for a full definition of each plus the potential points.
| Bet/Spin Amount | Points |
| --- | --- |
| Big Win (15x) | 1 point |
| Mega Win (30x) | 3 points |
| Super Mega Win (60x) | 9 points |
To come out on top, you need to win more than your rival spinners. And while this clash is fun, it does require plenty of luck. If you don't like the sound of RNG - then you may want to consider the next option...
Spin Clash
Once again, the objective is simple - accumulate more points than your rivals. The players with the most points win the biggest prizes. Unlike the Big Win Clash, there is only one way to earn points. Every 20p spent wagered on a game will earn you a leaderboard point.
This means you have far more control over how fast you collect points. Of course, the same goes for your rival players too. This is a battle where the fastest spinner will be crowned king. It's rapid-paced action at its very finest.
Coming Soon: Multiplier Clash
Details are scarce at the time of writing, but there will be a new type of clash joining soon. The will give you even more opportunities to land free spins.
Pro Tip: Your secret to victory in the Clash of Spins? Spin the slot fast - this may not seem relevant to the Big Win Clash. But remember, the more spins you land, the better your chances of landing a win.
You may be wondering just how many free spins are up for grabs? This ultimately depends on how well you do. A 1st placed finish can expect anywhere from 50 to 100 free spins.
Videoslots Casino Promo Codes
100% up to €200 sign-up bonus+11 Wager free spins

Use the promo code NEWBONUS

Tested

Last used 1 hr 27 mins ago