Spanish 21: A Blackjack Fiesta?
Learn about this hot alternative to your traditional blackjack game...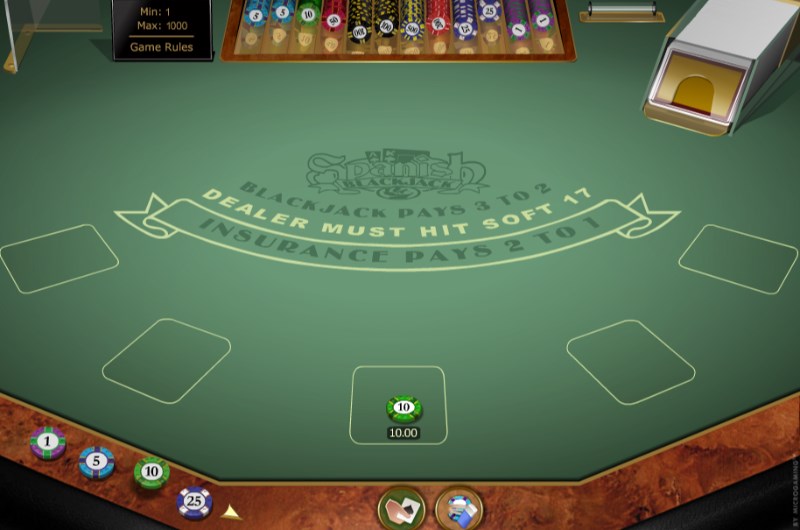 When you think of blackjack the first thought that probably pops into your head is a glitzy casino on the Las Vegas strip where your mission is to beat the dealer in a race to a total of 21.
Indeed, such is the popularity of blackjack that it's been the subject of multiple films in the past and the main version you'll generally see depicted is the North American one.
Which online casinos offer mobile blackjack?
0
Unibet Casino NJ: FREE CASH PLUS DEPOSIT MATCH. Use the promo code UBCASINO10 when you register to get $10 free play. Get $500 deposit match using promo code UBCASINO500. T&Cs apply. Over 21s. NJ residents only.
1
Virgin Casino: New customers only. 21+ T&Cs and wagering requirements apply.
2
Tropicana Atlantic City Casino: Read the wagering terms. New customers only. 21+ T&Cs and wagering requirements apply.
3
Borgata Casino: New customers only. 21+ T&Cs and wagering requirements apply.
4
BetMGM Casino: Must use BETMGM bonus code NEWWORLD1. New customers only. 21+ T&Cs and wagering requirements apply.
Favoured by recreational players and professionals across the world, regular blackjack is a game that not only gives punters a great chance to win some money but have fun whilst they are doing it.

However, in addition to the game which many players call standard blackjack, a number of alternative versions exist and one of the most potentially profitable is Spanish 21.
Named after the place it first became popular, this game is a mixture of regular rules and exotic twists that are designed to give the player a better shot at winning some cash.
Indeed, while there are never any certainties in the gambling world, Spanish 21 is certainly a game that gives you better chance of winning than many other blackjack variants.
The Basics of Spanish 21
Spanish 21 is played with between 6 and 8 decks containing 48 cards each. The four cards which have been removed from the decks have a value of ten, which gives the house a slight edge.
However, in an effort to offset this advantage, the game has a number of internal bonuses that help to reduce this advantage.
For example, in Spanish 21 you are allowed to double down after a split (something you can't do in blackjack) so this gives you added scope to capitalise on the dealer's weakness and make a lot of money in a single hand.
Additionally, Spanish 21 allows you to re-split aces, double on any number and surrender after doubling down (this is known as "double down rescue").
The Benefits of Spanish 21
Arguably the most important aspect of Spanish 21 that helps make the game more favourable for the player is that they always win with a total of 21.
Moreover, a player's blackjack beats the dealer's blackjack. On top of this, a five card total of 21 will pay 3:2, while six card 21s and 7 card 21s will pay 2:1 and 3:1 respectively.
The final reason why Spanish 21 is more attractive than standard blackjack is that you can win bonus money if you get dealt 7-7-7 and the dealer's up card is a seven. This bonus hand will win you anything from $1,000 to $5,000 in many live and online casinos.
What are the rules of Spanish 21?
In essence, this is the same game as blackjack. Your objective is to make a hand as close to 21 as possible without going bust. The game does feature some extra rules from normal blackjack - like the ability to double down after a split.
How to win Spanish 21?
The objective of Spanish 21 is indentical to the objective of traditional 21: make a hand of 21. With this in mind, make sure you follow optimal blackjack strategy to bring down the house edge to mere digits.
What is the Spanish 21 house edge?
This depends on the table rules. If the dealer stands on soft 17, then the house edge will be 0.40%. If the deal can hit on soft 17 and redoubling is allowed, then that edge increase to 0.42%.
Where can I play Spanish 21 online?
This variation of blackjack is widely available at hundreds of casinos. The sites displayed here all feature the Spanish 21 game.
Our Verdict
Spanish 21 might not be as popular or widespread as regular blackjack but if you're a professional player looking for a favourable set of conditions it's certainly one that worth seeking out. Although the odds of the game are inherently in favour of the house (because of the missing tens), the added bonuses and incentives make it one where you can capitalise on a hot streak and win more money than you would in regular blackjack.
Latest Variations Articles
Latest news